We are delighted to welcome Craig Fletcher to the CLI senior team as our new Director of Impact, Research and Evaluation.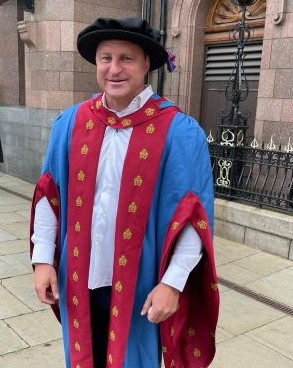 Craig joins CLI having recently completed his Doctoral Certificate in Philosophy, at Manchester Metropolitan University. His PhD was titled: 'Double Punishment' – The Proceeds of Crime Act 2002 (POCA): A Qualitative Examination of the Post-Conviction Confiscation Punishment in England and Wales', and with the award he now becomes Dr Craig Fletcher.

In this new role for CLI, Craig will lead on the continuous development of CLI's impact management frameworks, evaluate the quality of all the services we provide and use the learnings from our work to inform policy design at both regional and national levels, providing best-practice and evidence-based solutions to the challenges faced by our disadvantaged communities.
Craig commented: "I have observed CLI's growth since its inception back in 2013 and the thing that has most impressed me the organisation's ability to expand without compromising on the quality of service delivery and to also to attract highly skilled and motivated employees. It is a privilege to be joining Pete and the wider CLI team and I'm looking forward to drawing upon my lived experience of criminalisation, punishment, and desistance, complemented by my 17 years of academic study and research, to help CLI's continued expansion".
Pete Atherton, our CEO, said "I have known Craig for many years and his expert understanding of the Criminal Justice System, combined with his passion for recovery and positive rehabilitation, will bring valuable new knowledge and skills to the CLI senior team. I look forward to working with him as we continue to develop CLI and expand awareness of how our peer support and our embracing of lived experience help those we work with move on with their lives and achieve their aspirations."
Craig will start in his new role on 1st September 2022. Welcome to CLI Dr Craig!