Volunteer Coordinator, Liz on ICM and Volunteers Week
Hi, I'm Liz and I work for Community Led Initiatives. I am the Volunteer Coordinator on the Inspiring Change Manchester Project, where I recruit, train, and support volunteers.
Volunteers Week
Its national Volunteers Week in the UK and our usual fun activities and celebrations are on hold until normality returns, so this year we are celebrating the event virtually with a CLI Award Ceremony on zoom. We are also going to be sharing online videos from our volunteers and partners over the course of the week, so head over to your referred platform and visit us on Insta, Facebook and Twitter.
Follow @communityledinitiatives
or
@Community_Led (for Twitter)
With over 21 million people choosing to give up their free time every year to help others in the UK, you may wonder what ignites a passion to volunteer and what the benefits of volunteering are. Here is my story and why I choose to work with CLI and support our volunteers working in the Third Sector.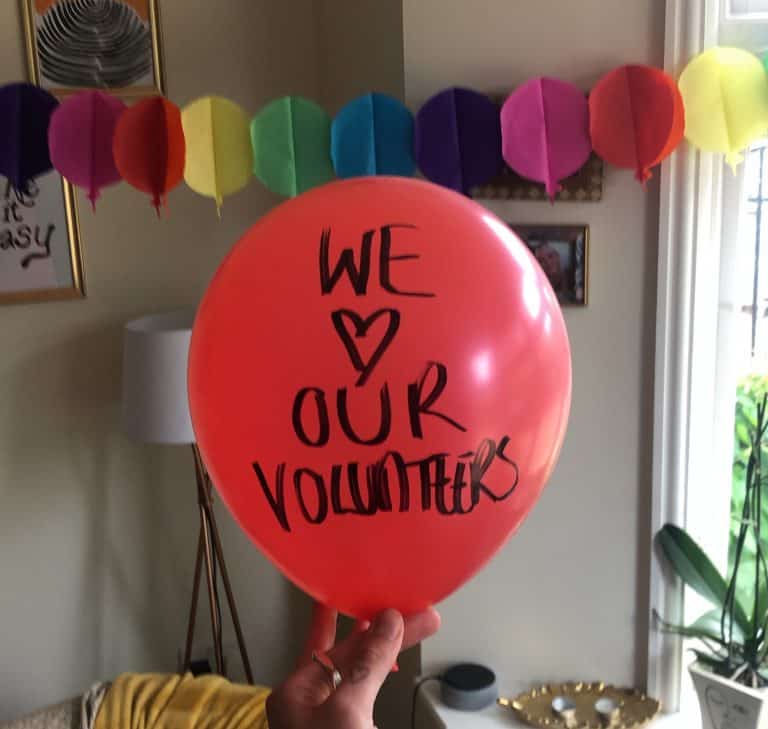 About Liz
I first heard about CLI when I decided to return to employment after raising 3 children and looking to restart my career, after a 14-year sabbatical. Going back to my previous job in Sales and Marketing was no longer of interest to me, so I searched for something where I could help others who were less fortunate. Admittedly, I was partly inspired by the true-life drama 'Three Girls" set in my hometown of Rochdale. A must watch if you have not already. The portrayal of the lives of the three young girls impacted by grooming and the ripple effect it causes, hit me hard. I was so moved by the aid their support worker provided. I wondered could I make a difference too?
The following week I reconnected with an old school friend who told me about an organisation called Community Led Initiatives. She said they placed volunteers in projects across Manchester helping marginalised people reconnect back into society. I did some research, read stories from people CLI had supported and wondered if it were something, that I could do too? Maybe, I could help people who have suffered with childhood trauma? Hmmm interesting….. Would CLI be able to offer me something that was rewarding, educational, inspirational and where I could make a difference in someone else's life? Well the answer was a big fat yes!!
A little background – Community Led Initiatives are a Voluntary Organisation set up by Pete and Matt in 2013, who had started to rebuild their lives after addiction, mental ill health and prison. Having learnt what works and does not work in helping others facing multiple disadvantages, their lived experience shapes and influences how we operate our service today. Working across different projects in the UK, CLI aims to help people through peer mentoring and group activities to make positive changes in their life.
I was recruited to volunteer at ICM in 2017, given the best training and support by my coordinator and the ICM staff and entered a totally different world that was the incredible ICM service. I thought 'would I be good enough to help'? 'Did I have the right experience for this'? So, when I first arrived at the ICM hub (a shared space for staff, volunteers and people we support) I wondered what on earth had I let myself in for? Sometimes working with people who experience multiple disadvantages can be challenging but the job is brimming with rewards. On the bad days, there can be tears and anger but not surprising when people are facing such difficulties. Individuals who do not have permanent shelter and suffer from mental ill health, often use substances to ease the pain and can live chaotic lives. Consequently, surviving like this can lead to experience with the criminal justice system and experience isolation, fear and stigma. I soon developed many skills to help others and started seeing some positive outcomes to the lives of the people I was helping. Like so many before me, a developed a bond and admiration for everyone around me. I felt I was where I was supposed to be.
Being part of the Team
Being part of a team where people used their lived experience for growth and change, was inspiring to say the least. I mixed with other volunteers and learned from everyone's experiences. Shadowing the staff and attending professional meetings were weekly events and where I learned so much. During my time there, I supported a few different people, helping them in their daily lives. The job was varied, flexible and fit around family life. One day I might be helping someone claim benefits, the other I would be attending a psychiatric appointment. There were many times were fun was the best medicine too and we often did activities like horse riding, go-karting, bowling, going to the cinema or taking in nature at the local park. Meaningful use of free time goes a long way to supporting change and altering mental ill health in such a positive way. At CLI we encourage our volunteers to look for hobbies and activities people can take part in and sustain themselves in the future.
What I got from Volunteering…
Volunteering gave me so many different gifts. Not only did it lead to my employment with CLI as a project and volunteer coordinator, but it taught me to be grateful, humble, kind, non-judgemental, tough, tenacious, empathic, confident, and so much more, every single day. Do not get me wrong, its hard work sometimes, navigating a way through services and its bureaucracy. It can be a maze of red tape, "ring back tomorrow" and "you haven't got the right ID" all after 45 minutes on hold. But having resilience and tenacity in abundance helps enormously.
Being a volunteer with CLI, you become an invaluable part a team and it taught me how to communicate better. I know how to listen to people without thinking about "what I am going to make for tea?" and really connect with others.
If volunteering is an idea you have been toying with but not taken that step yet, then I would say – "do it", you will not regret it. If its something you have never considered before, "give it a try", it will most definitely enrich your life and you will make friends for life.
Life in Lockdown
Finally, a little about life during the pandemic.
The corona-coaster leaves many of us wondering how life will be the same again. And whilst we have been experiencing so many ups and downs, so have the many people we support at CLI and ICM. Life for some has improved slightly, those that are natural introverts have enjoyed lockdown, in the safety of indoors (for those housed) and are connecting with us more than ever via phone and video chats – with a couple having a go at Zoom and joining our weekly CLI Quiz. For others, not so much. But we are working hard to improve the lives of those that need our help and our volunteers have played an integral role with this. Making check in phone calls to all our project members and finding out what support they would like. Helping people access other services, advocating to other professionals or just being there as a friendly ear on the other end of the phone. To all those volunteers that have stayed involved with us, contributed and you have been out and out stars and I would like to say a big thank you. The time and dedication you have shown, often putting others needs before your own, is appreciated. I look forward to seeing your faces every week and hearing your stories of how you help others. This service would not be the same without you. Enjoy the coming celebrations, you deserve it.