"Lockdown has been", a project by Bedfordshire Community Reporters. A group of filmmakers, set up and supported by CLI, to report on current topics/issues within their community. 
Based in Bedford Borough and Central Bedfordshire, their aim is to raise awareness, project the voices of lived and personal experience and help build a recovery network. It is a way of connecting to their community in a positive way that has the potential to make a big impact.
Below you can watch the final edit of their latest project and hear from Kevin, a member of the Community Reporting team on how it all came together.
On the first Friday in June there was a new post on the SAMAS Community Reporters WhatsApp group:
Hello everyone! I've been thinking, about this wonderful platform we have and how like with a few things during corona it's not been possible to make the most of it. HOWEVER, I have had a little idea – I think we could create something with volunteers, service users and staff across all areas on 'recovery in lockdown'. A sentence from each person on what it's been like. Get as many people in the CLI gang as possible to complete the statement:
"Lockdown has been…"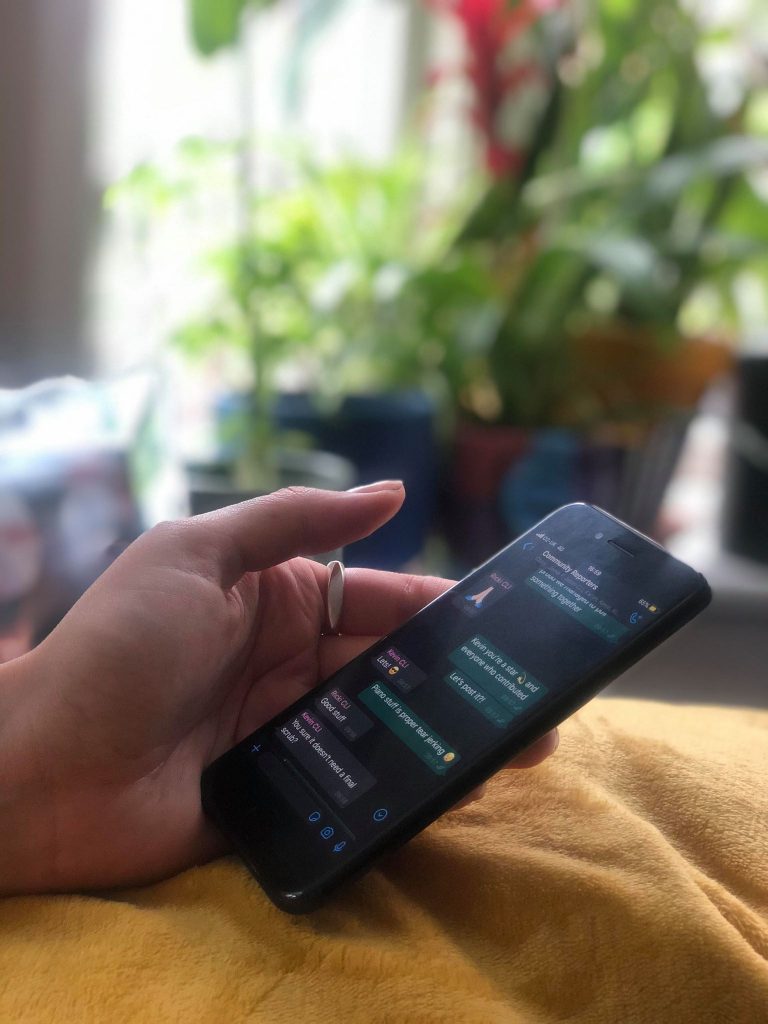 The group thought this was a great idea, so we got to work and sent out a call for videos and watched them trickle in.  One thing became clear right away.  People found it hard to sum up "Lockdown has been…" in one sentence. What to do?  Every contribution was valid, moving, and important.  Our training had made it clear though.  No audience can sit through 20 five-minute monologues on the same topic.
We needed a compromise.  The group decided that just one sentence was going to lose a lot of the nuances. Would, say, twenty second sound bites do the job? Maybe using fewer stories?  We tried editing some of the contributions and decided that it worked well.
Now all we had to do was put the whole thing together.  Trouble is that producing a video about lockdown, during lockdown, is, well, tricky.  The editing software was safely on the MacBook in the office.  The locked down office.  Here's Kevin, part of the SAMAS Community Reporters team explaining:
"So, we have a good few of us involved in Community Reporters, but all of the tools we usually needed were in the office.  What did we actually have? Nowt, I thought, then remembered that Windows 10 had a 'free' editor.  I opened it and had a look.  It was pretty clunky and to be honest I hadn't a clue as to what the buttons were for– but it was all I had.  Our usual editors were very busy, so they asked me to have a bash.  Ummm – I haven't actually done any editing before – I leave that to the 'creatives'.  Oh well, in for a penny… With Google as my new best friend I had a go.  This is the result. Thanks to the efforts of all the contributors, we think we have managed to cover a broad spectrum of thoughts and feelings about how lockdown has affected the CLI Community."
As always, CLI are really impressed with what our fantastic Community Reporters have created, even in lockdown!! 
Whether you're a Volunteer or are supported by CLI in Bedfordshire, you are welcome to join the team of reporters! Coordinate a project or share your ideas… Contact your Coordinator to discuss how to get involved. 
Or, if you'd like to see more of what the Community Reporters produce, please subscribe to their YouTube channel.