BBC Three Counties – Recovery is possible
BC Three Counties – Recovery is possible
CLI were kindly invited by BBC Three Counties radio last week to talk all things Addiction and Recovery. Our newly appointed GROW Trainee's Ricki Barton and Bernie Roles bravely shared their stories live on the afternoon show with Nick Coffer.
CLI Bedfordshire continues to grow and shape recovery in the local area. Our peer led approach is proving to be successful and helping those who have battled with addiction make lasting changes to their lives.
So, when asked to speak on the radio we absolutely jumped at the opportunity. We couldn't think of a better way to share our progress and get the message out there!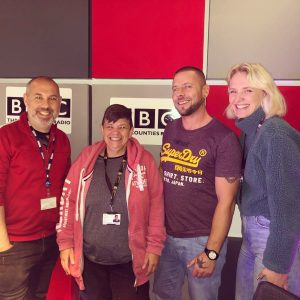 Ricki and Bernie, our new GROW Trainee's, are an excellent demonstration of what recovery can look like. Our GROW Traineeship is an opportunity for those with lived/personal experience of addiction to gain skills in the workplace as well as utilise their knowledge of this field by mentoring others in their recovery. Since finding recovery both have overwhelmed us at CLI with their passion to make a difference, help others and make recovery fun.
However, this is not to say that last week wasn't challenging for all those involved. Speaking openly and honestly about alcohol and heroin addiction live on the air is no easy task. However, both Ricki and Bernie spoke with such confidence to Nick, some crucial points were touched on and they both really enjoyed the experience.
"It was awesome, Nick was so warm and welcoming that it put me straight at ease. This experience really helped boost my confidence and I'm pleased I did it. Back in the midst of my addiction hearing something like this would have really helped me" – Bernie.
Our aim was to chip away at that stigma and judgement that comes with the topic of addiction and show that with the right support and resources recovery IS possible!
Our Recovery Community Development Coordinator Zoe Walker also featured on the interview. R.C.D.C. is another new role we have developed at CLI since growing as a service. Zoe is always working to ensure that recovery is visible and always growing in the local community. She discussed with Nick and listeners last Wednesday exactly what CLI provides as a service, how to get involved/refer someone and why peer led support really is the right way forward. Zoe has got a few more ideas in the pipeline to get our message out there so watch this space and follow us on @communitylediniatives on Facebook and Instagram for updates.
If you missed us on the 2nd October but want to listen you still can!
Go to https://www.bbc.co.uk/programmes/p07mb1my for the full interview.
A big thank you for BBC Three Counties for having us and Nick – you were so welcoming! Also, we're pleased to announce they want us back next year to see how Ricki and Bernie have been getting on. I don't doubt for a moment they will have lots of exciting news to share.